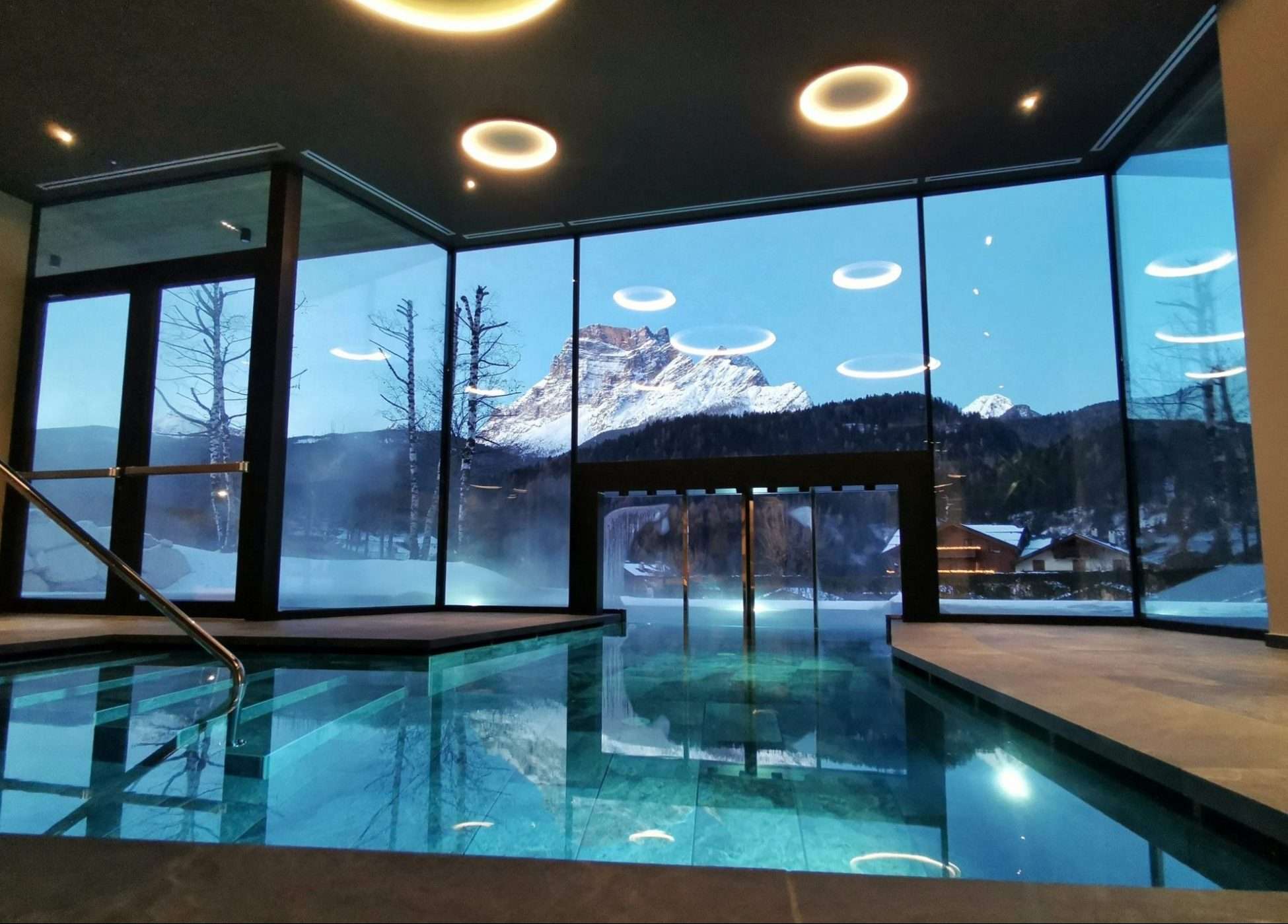 1.000 sq.m (10700 sf) Spa
Spa
Indoor Pool (temperature 30°C / 86°F; depth 140 cm / 55 inches)
Finnish Sauna outdoor with glass panel
Bio-sauna
Steam Bath with Color Therapy
Relaxation Room with direct access to the large hotel park
Ice Waterfall
Herbal Tea Room featuring natural teas
Essential Oils Whirlpool
Sanotherm Waterbed for wellness treatments
Tanning Bed
Beauty Treatments
4-star hotel and resort Parkhotel Ladinia stands out among hotels in San Vito di Cadore and Cortina for its complete range of wellness services.
In December 2022 a new Spa area was inaugurated which includes an outdoor whirlpool with a view of Monte Pelmo, a panoramic relaxation room and a spacious glazed gym.
Timetables and useful information:
Heated swimming pool 30° (also accessible to children): from 10.30 am to 12.30 pm  and from 3.00 pm to 8.00 pm
Sauna area, new Spa area and massages: from 3.00 pm to 8.00 pm
To guarantee a peaceful and relaxing environment, the sauna area and the new Spa area are reserved for guests over 14 years of age.
What to bring: just a swimsuit, because in the room you will find bathrobes for adults and children, as well as slippers (for adults only) and the Ladinia wellness bag.
For guests of the apartments it is possible to rent a bathrobe and slippers at a total price of Euro 8.00 (per person)
Entrance to the Ladinia Spa is included in the rate for Guests staying both in the hotel and in the apartments of the Ladinia Residence (inside the hotel).
An entrance fee of Euro 10.00 per person is required for guests of the Residence Peniè (for both adults and children).
The swimming pool and the Ladinia Spa are accessible only to Guests staying at the Parkhotel and in the annexed residences, while the massages and beauty treatments can also be used by external Guests.
Its gorgeous indoor pool with whirlpool features looks out onto the Dolomites through full-size glass panels, beyond which there is a large private park with lawn chairs for guests to relax on and take in the sun.
Recently the spa underwent complete renovations, including the addition of a spectacular outdoor sauna with a glass wall, a bio-sauna, a steam bath with color therapy, an ice waterfall as well as a beautiful relaxation room with hanging sunbeds.
Our hotel features contemporary design where no detail has been overlooked, using local lumber, natural stone, leather and loads of glass to brighten the interiors. Wellness services include an exclusive waterbed for body treatments and hay baths, 2 communicating rooms for simultaneous massages and beauty treatments.
Essential oil whirlpools, tanning bed and Technogym equipment contribute to a vacation centered on wellness and relaxation.
The Spa can easily be reached by elevator from both the guest rooms and the apartments.